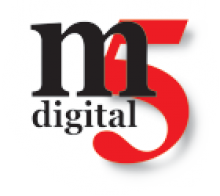 Customers always come first at m5digital products Ltd.
An experienced sales and service staff, a wide variety of home and office equipment and fast, efficient service has helped m5digital build on the success that has kept them serving the Kemptville, Brockville and Ottawa regions. m5digital stands for "five manufactures", we have learned that all businesses have different needs so we have many manufactures to choose from to satisfy the customer from price to options, and "digital", because all copiers have now become digital giving you the very best quality and less downtime. M5digital takes great pride on staying up-to-date with the latest technology; our staff regularly attends courses to meet the changing times.
At m5digital we know that without our customers we wouldn't have made it this far. Accordingly we strive to offer our customers the best possible experience.
Our approach has always been not to just hand you a quote, we take a consultative approach and evaluate the needs of the customers so they can get the right equipment and still save money. The advantage of dealing with us is that we bring value to the table. You don't have to keep your receipt; you don't have to save the box. We have a detailed record of all purchases made with m5digital, we make it hassle free as possible. We also offer free delivery and set-up of all equipment, there is even a product trainer that goes to your office at your convenience to train staff on usage of the equipment, if the customer has any staff changes – no problem, we will train new staff for as long as you own your machine.
In order to service the needs of our customers m5 employs qualified factory-trained technicians, we guarantee a 4 hour response time. We average a two hour and twenty-five minute response time. Most of our machines have service notification; the machine actually calls our office without the customer even knowing it, informing us the equipment requires maintenance or that they are almost out of toner, reducing down time. Our customers don't have time to worry about running out of toner, when your equipment is down for something as simple as toner, it cost our customers lost time and money.
Address
Creekside Mall 2868 Hwy 43
Canada
Contact M5 Digital