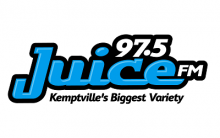 97.5 JuiceFM
Kemptville's Biggest Variety
Vista Radio
Local and proud of it!
Vista Radio Ontario South East
97.5 JuiceFM Kemptville, 107.9 CoastFMPrescott
97.7 MooseFM Bancroft, 106.5 MooseFM Barry's Bay
Exclusive Offer For Chamber Members from 97.5 Juice FM
Purchase a radio campaign minimum of 2 weeks, minimum of 3 ~ 30 second spots per day. The price is usually $546 plus tax, which would now be $420 plus tax. We can book them in at 6 am - 7 pm rotation rather then 6 am - Midnight rotation for the same price which is a $3.00 per spot discount. Amazing!
If you buy a feature, for a year (12 week minimum) which is Roads and Weather or News Sponsorship - "Brought to you by...."we will bonus the 30's within the feature at 100%.
Example:
Morning Show News Sponsorship
You will receive a 10 second Bill Board (News brought to you by...) PLUS a 30 second spot (full sell about your business). This will be one per day, Monday to Friday on a rotating basis (6a, 630a, 7a, 730a, 8a, 830a, 9a)
As a bonus to you you will receive 100% bonus spots, purchase for one year that is 260 spots in full reach plan that you can use during the year whenever you want to promote an event or special!
If purchased for 12 weeks, the price would be $1080 plus tax and as a bonus you receive 60 ~ 30 second extra commercials that can be used for an event or a special for your business.
Please contact our office 613 258-1786 and we can set up an appointment.
Contact 97.5 JUICE FM