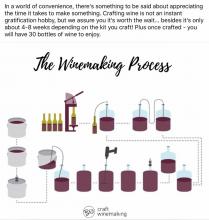 We are located in a beautifully restored, fully accessible heritage building in the heart of Old Town Kemptville.
Our goal is to make your wine making experience easy, comfortable, economical and enjoyable. Only the highest quality ingredients are used to make your favourite wines at the best prices.
We can help you choose your wine from our wide selection, sourced from vineyards around the world. The formula can be adjusted to suit your sensitivities and individual preferences. It takes about five minutes to get it started. We take it through the additional processes to a finished wine for you. You need only return in four to six weeks for bottling.
An attractive array of labels and shrink-caps is available for that finishing touch, or you may choose custom labels to personalize your bottles. The result is wine that you'll be proud to serve to your friends and family. We also offer wine accessories and supplies for the home wine or beer maker.
Visit there Website
Check out there FaceBook page 
210 Prescott St. 
Kemptville, Ontario K0G 1J0 (613) 258-9463
Check out our Member Gallery tab.