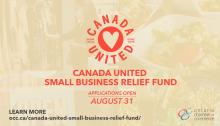 25 WINNERS. $10,000 EACH. ONE WEEKEND.
Shop or dine local August 28-30 for a chance to win* one of 25 $10,000 cash prizes.
Limitations apply. See contest rules.
‍
Local businesses need your business, now more than ever. And when you give them your business, you could earn a chance to win big money.
Here's how it works.
Shop or dine local at eligible businesses, August 28, 29 and 30
Select "Enter Contest" below to complete a simple entry form that includes your name, contact info, and confirmation that you've made an eligible purchase
We will conduct a random draw after the contest ends
If you're selected, we'll contact you to confirm your purchase and verify eligibility
And if you win, we'll celebrate together!
We can't wait to award this money, because it's going to people who are trying to make a difference for small and local businesses. And what's more rewarding than that.
Enter contest here: https://www.gocanadaunited.ca/contest