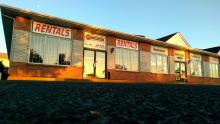 After careful consideration of the COVID-19 virus, we have decided to temporarily close our doors for the safety of our staff and community. We are modifying our hours to allow equipment returns only.
Our hours will be:
Wednesday March 25th 8am - 12pm
Thursday March 26th 8am - 12pm and
Friday March 27th 10am to 12pm.
Moving forward, we will add times if necessary. Our shop will be locked, so you can call to reach us during these business hours to return equipment. We will provide you our safety procedures to follow regarding your return. If you have an emergency such as a flooded basement, don't hesitate to call and we will do our best to help you out.
613.258.4152 or 613.220.9826 or 613.240.3907
Please contact me directly if you require information.