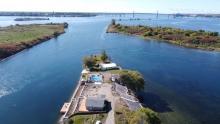 Kollaard Associates Engineers on location in Johnstown, Ontario
Last Friday was a beautiful day to fly our drone on the St.Lawrence River at Tuttle Point.
Here is one of the many beautiful pictures of the finished product and the amazing workmanship by @landex.earthworks.
We provided a slope stability assessment for both sides of the property, structural design for the cantilever dock and engineering review of the retaining wall. #geotechnicalengineer #structuralengineer #retainingwall #landexearthworks #galopcanalontario
Click here to learn more about this wonderful business.