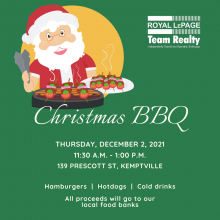 The Chamber of Commerce was excited to see the new office at Royal LePage located at 139 Prescott St. 
We were given a tour and were impressed with the large collection of toys to be given to those in North Grenville.
Congratulation on all your hard work. 
Nina Tachuk wrote:
SO VERY PROUD to be part of such an amazing team of realtors who go out of their way to support our local community.  With this event we raised over $1,000 for our local North Grenville Food Banks!  We are also collecting Christmas toys for children in our community so if you can drop off a toy to our new office at 139 Prescott Street in Kemptville before December 15th please do so.  Just like the money we raised for the local food banks, the toys will be distributed to children in North Grenville.  Grass Roots ... its where great things happen:)
Click here to see the video from the BBQ!