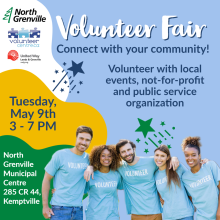 Looking for local volunteer opportunities, but don't know where to start? The Municipality of North Grenville, in partnership with the Volunteer Centre of St. Lawrence—Rideau, is hosting a volunteer fair on Tuesday, May 9.
The free event runs from 3 p.m. to 7 p.m. at the North Grenville Municipal Centre.
To register for the volunteer fair, contact recreation co-ordinator Tammy Hurlbert by calling 613-258-9569 ext. 123 or emailing thurlbert@northgrenville.on.ca.