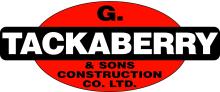 Since 1957, the firm of G. Tackaberry & Sons Construction Company Limited has been serving Eastern Ontario. We are proud to say we have over 50 pits and quarries throughout Eastern Ontario.
Our head office and Asphalt plant is located in Athens Ontario with 2 other main locations in Perth (Tackaberry Sand & Stone Ltd.) and Seeley's Bay (Sweet's Sand & Gravel).
With an experienced and stable work force, Tackaberry's is able to provide fast, efficient, quality work for Municipal, Commercial and Residential clients.
Let Tackaberry's be the choice for your next project whether it be as large as building and paving a road or as important as delivering a load of stone for your driveway!
Address
G.Tackaberry & Sons Construction
1590 County Rd #43
PO Box 1370
Canada
Contact G. Tackaberry & Sons Construction Company Ltd.