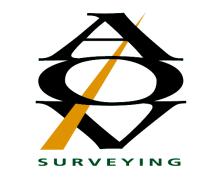 Legal, Topographic and Engineering Surveys
AOV was founded in 1964 by George Annis and Michael O'Sullivan. Originally from Toronto, the two found themselves working more often in Ottawa on consumer's gas projects than in Toronto. Being outdoors minded, the two found they liked the closeness of the community and the wide and differing activities Ottawa had to offer, deciding this would be a great place to live and raise their families.
As with most small companies, change was inevitable. Through dedication, hard work and perseverance, they quickly developed business relationships that would stand the test of time. Many of our original clients are still with us today. What started with two young men and a dog has become one of the largest land surveying firms in Ontario and continues to provide great service and great loyalty. Their indomitable spirit lives on in the business they started.
Kemptville Office
Street: 113 Prescott Street, Box 1340
Kemptville, ON, K0G 1J0
613-258-1717
Fax: 613-258-4475
kemptville@aovltd.com
Nepean Office
14 Concourse Gate, Suite 500
Nepean, ON, K2E 7S6
613-727-0850
Fax: 613-727-1079
nepean@aovltd.com
Address
Annis O'Sullivan Vollebekk (formerly Kennedy Surveying)
136 Prescott St.
PO Box 1340
Canada
Contact Annis O'Sullivan Vollebekk -Kemptville